Sinterklaas Dutch Vocabulary Guide
It's the happiest time of the year as on Sunday, November 17th Sinterklaas will officially arrive in the Netherlands. Depending on where in the Netherlands you live, Sinterklaas will somewhat confusingly arrive on a boat from Spain with one of the following:
A group of happy, smiling, singing and dancing simple-minded black or brown folk (Traditional Zwarte Piets)
A group of 'nep' Zwarte Piets who look like a bunch of white folks who have been down a chimney
When I first arrived in the Netherlands in 2004, every single city used traditional blackface Zwarte Piets. Fifteen years later it's amazing that in 46 of the regional Sinterklaas events that there'll be Roetpieten/Sooty Piets. Plus the national TV show the Sinterklaas Journaal in 2019 will feature no traditional blackface Zwarte Piets for the first time.
I've put together this handy Sinterklaas Dutch vocabulary guide to help you understand some of the comments you might hear at Sinterklaas events where they still use a mixture of traditional and Roet Piets.
The things I do for my readers!
| | |
| --- | --- |
| Dutch phrase | Meaning |
| Belachelijk | Ridiculous that they look like that. Everyone knows that going through a chimney turns your face dark brown or black. It also turns the hair of Caucasians, you know, white people afro style. Fact!!!!!! |
| Wat zwart is moet zwart blijven | Black is black and must stay black! ZP was always black, it's ridiculous that this is no longer allowed. In fact, it's kind of racist that they don't allow black piets anymore. |
| Het gevolg is dat de witte Nederlander steeds "racistischer" wordt. | Black people are to blame for making white Dutch people more racist for not allowing whites to make fun of them by dressing up in blackface. |
| Gediscrimineerd voelen is ook een keuze! | It's a choice to feel discriminated against. I'm white and that qualifies me to tell non-white people what they should regard as discriminatory |
| Het is traditie! | It's a tradition and everyone knows that traditions NEVER EVER CHANGE! |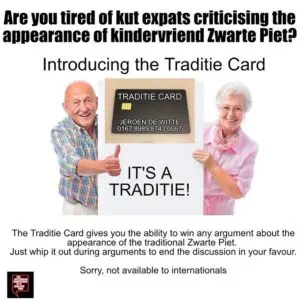 No traditions were hurt during the writing of this post. Until next time, black is black….