The Uitzwaai Dag for Sylvana Simons
For my expat readers that are learning Dutch, here are some phrases from the Dutch language that you won't normally learn in Dutch courses.
jankneger, aandachtshoer,  Zeurpiet, Klaagpiet, Kutpiet, landverrader, kutwijf, sloerie, vieze teringhoer, zwarte doos, negermongool en aap."
All of these phrases, and more were used by some allegedly 'tolerant' Dutch people to insult a black woman, who has dared to criticise Zwarte Piet. More proof that Dutch tolerance is as dead as the funky chicken dance.
Which brings me to the subject of today's post, Dutch tolerance and the Uitzwaai dag for Sylvana Simons.
Sylvana who?
There used to be a song whose chorus went something like, Alice, Alice, who the f**k is Alice? You, dear expat reader, are probably thinking the same about Sylvana Simons. Who the hell is she? Well, to cut a long story short, she's a former singer, and a TV presenter. She recently became politically active, and for the record happens to be black.
The Shallow Man doesn't personally agree with most of her political views. In fact she's joined an extremely conservative political party called DENK. I saw her on DWDD using weasel words to try and justify the recent arrest of a Dutch/Turkish journalist who dared to criticise the president of Turkey on Twitter.
She's guilty of…
Being black, while having an opinion not popular with the majority of Dutch natives. In her new political party, she intends to campaign against racism, and Zwarte Piet. As a result of this, she's been bombarded with a deluge of racist insults and even death threats.
Interestingly, in spite of a lot of Dutch people claiming that Zwarte Piet, has nothing to do with race, it seems that as soon as a black person comments unfavourably about ZP, they are inundated with racist insults such as the examples I provided above. I'll also add, that an actor who played the head Piet on the Sinterklaasjournaal for many years, has quit the role due to the producers of the programme ignoring his requests to alter the appearance of Zwarte Piet to make him accessible and inoffensive to all. Predictably, his requests were ignored, so along with another colleague has quit the show.
Uitzwaai Dag event for Sylvana Simons
A lekker 'tolerant' Dutch lady,  has organised a Facebook event on December 6th, at Schiphol Airport, to wave goodbye (Uitzwaaien) to Sylvana Simons. The implication being that as she's black, she'll be leaving with Sinterklaas and the Piets.  This is incredibly confusing, as Zwarte Piet supporters always claim that ZP isn't black, so why would she be leaving on December 6th?
Now not being Dutch, I could be wrong, but I thought that Sinterklaas and his employees leave the Netherlands on steamboats, not Easyjet. Having said that I'm only a foreigner, so what do I know about it?
In no time at all, over seventeen thousand people have added themselves as going to the event, which to remind you, is all about sending someone, who possesses the Dutch nationality, out of the country, and waving them goodbye, because they dared to have an opinion not shared by the majority.
Alles wat door Nederlanders is gemaakt, of wat een traditie is, dat haat Mevrouw Simons, dus bij deze wij hebben jou niet meer nodig in Nederland, ondankbaar persoon. wij zeggen Zwarte Piet is wel WELKOM, en wij zwaaien mevrouw Simons graag uit op 6 December.'

Everything that was made by the Dutch, or is a tradition, is hated by Miss Simons, so we don't need you in the Netherlands any more, you ungrateful person.  We say that Zwarte Piet is WELCOME, and we'll happily wave Miss Simons out of the country on December 6th.'

"All the people that are trying to say that we're racist, are also against the Royal Family, and against Zwarte Piet. They were also the ones that used violence during the Sinterklaas event in Gouda. They are against everything that the Netherlands is, then the question is, what are they doing here? You think that you can do anything you like, but don't forget that you makeup just a small minority of the people here."
Minorities need to learn their place
It appears that the organisers of this event, were offended by the fact that a "nieuwe Nederlander" or "allochtoon/foreigner" didn't know her place, and dared to use one of the democratic rights guaranteed to all in article seven of the Dutch constitution, freedom of speech. Take note, that if you're a minority, and would like a free trip out of the country, simply criticise Zwarte Piet and you too could have your very own uitzwaai dag. A trip home, gratis!
Alternative names for the event
Say it loud, we're Dutch, racist and proud, kick out a neger day.
17,000 tolerant people wave goodbye to a black woman that doesn't know her place.
Nipples are far more dangerous than racism
Many, moderate, rational Dutch people, condemned the racist comments that were made on the Facebook event, but were largely shouted down by the angry 'ik ben geen racist, maar….' majority. Complaints were made to Facebook about the page, and the ugly racist comments on it, yet it took quite some time for Facebook to close it down.
If you post a picture of a topless woman, Facebook will take the photo down quicker than a Dutch person denying that racism exists in their society. Yet when it comes to hate speech, and downright disgusting racist comments, Facebook takes a long time to react. It's seems that nipples pose a far greater threat to society than inciting racial hatred.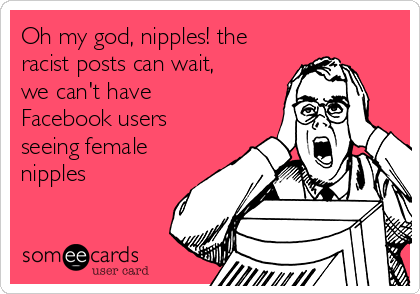 To Summarize
There are two possible explanations to the Sylvana Simons uitzwaai dag event:
1. The minorities bring it on themselves
The Netherlands is perfect, and there's no racism here at all. In fact, anyone that claims to have suffered racial discrimination, obviously has an inferiority complex, or is looking to get compensation from the hardworking Dutch. What might appear to be racist insults to you or I, are in fact just an expression of Dutch humor, and if you don't like it, then the locals will arrange an Uitzwaai dag for you to wave you out of the country.
2. There might actually be some Internet only racists
The Shallow Man is as black as a dark night in Mombasa, and yet, I've personally never encountered any racism in the Netherlands at all. Ok, I was in a posh restaurant in Maastricht once, and overhead an elderly couple sitting nearby say "I remember the first time I met a black person…" 😀 That comment actually made me laugh, and didn't offend me at all.
My point is that, I've travelled this denim covered land, and have rarely encountered any racism, therefore, I can only assume that there are a lot of latent racists, who only feel brave enough to express their true feelings, sitting safely behind a computer screen.
Dutch social media, like that of many other countries actually, is full of racist comments, and lots of requests for people of color to rot op naar hun eigen land, etc. There's a climate here, where racist statements, are liked, and shared. There's also a habit of outright denial, and anger, whenever any media reports are published that show that racism certainly does exist in the Netherlands.
It's sad that in the year 2016, in a country that likes to think of itself as one of the most tolerant in the world, that a black woman can be victimised in this way, but sadly, as Frank Sinatra once sang, 'that's life.'
Till next time, if you don't like it here, rot toch lekker op naar je eigen monkey land!