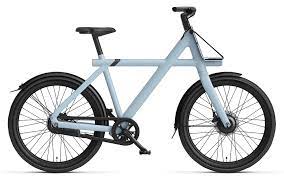 A VanMoof E-Bike
Sexier than a Dutch woman wearing cowboy boots and denim shorts. The VanMoof is the Aston Martin of E-Bikes. If there were a Dutch version of James Bond, our hero would fly along Amsterdam's streets having shootouts on a souped-up VanMoof.
If you're one of the following, then the VanMoof is for you.
A blue suit, brown shoe-wearing investment banker or lawyer
A Hilversum-based TV Producer
A senior exec at one of Amsterdam's numerous startups
A teenager whose parents have more money than sense
If one of the above fits you, then doe maar! Buy a VanMoof. However, beware that VanMoof appears to be having some expansion problems, and there's a good chance that your lekker sexy E-Bike might spend more time waiting to be repaired than on the road.
After a hard day on the range, Anouk decided it was time for an E-Bike
Fat Tyres/Fat Daddy E-Bike
Nothing screams "I'm having a midlife crisis" more than being overtaken on a bike lane by a middle-aged man on a fat tyre E-Bike monstrosity. But I'm getting ahead of myself. The fat tyre E-Bikes cost more than an essential trip to Bali and a stay at a fancy resort so that you can find yourself.
In my neck of the woods, Amsterdam East, they appear to be incredibly popular with teenage boys, who can be seen happily weaving from bike lane to pavement and back again at frightening speeds.
The fat tyres type of E-Bike are perfect for you if you're one of the following:
You're having a mid-life crisis
You plan to snatch smartphones from passersby and want to get away at high speed
You're a wannabe gangster
You've always wanted to be a Hells Angel, but can't afford a Harley Davidson
You have incredibly thick skin and don't mind people laughing at you as you speed along thinking that you look cool
Urban Arrow
When the Urban Arrows arrive in a Dutch neighbourhood, the property prices increase, and the minorities move elsewhere. 😉
Within weeks of people moving into an area with their Urban Arrows, artisan bakeries start popping up. Along with cafes whose baristas react in shock if you dare to order a cappuccino with dairy-based milk.
The Urban Arrow is perfect for you if you're one of the following:
You're a parent of young children who likes to dominate bike lanes
Your goal is to drive social housing tenants out of your new neighbourhood and triple the price of your property
You hope to own a Range Rover or Porsche SUV in the near future. The Urban Arrow is the first step on the obscenely oversized vehicle ladder.
Swapfiets 
If the VanMoof E-Bikes are Aston Martins and the Fat Daddy bikes are Harley-Davidsons, then the humble Swapfiets are the Fords or Skodas of the E-Bike world. They might not look amazing, or have shallow people throwing themselves at you due to the bike your ride, but they're reliable and affordable.
The Swapfiets are perfect for you if you're one of the following:
You're the kind of person that sends a Tikkie if someone watches a TV show with you at home on Netflix
You dress to be comfortable
If you're in a new relationship and your partner stays at your place for the weekend, you make them sign a temporary samenlevingscontract
The Cowboy 
Mooi! Just beautiful. If the Cowboy had a profile on Tinder, I'd swipe right. It's the Lamborghini of E-Bikes. Like a dream date, it's beautiful to look at, touch, and ride. 😉
The Cowboy is perfect for you if you're one of the following:
You have exquisite taste
You love the latest in technology
You dress for the occasion
Indeed, the Shallow Man has decided that the Cowboy is the perfect E-Bike for me.
In closing
Like the early 20th century change from horses to the motor car, getting an E-Bike is inevitable. At least for me. If you're tired of being overtaken by near-silent electric bikes at incredible speed, now's the time to say, "I feel the need, the need for speed".
No smartphone thieves on fat tyre e-bikes were hurt during the writing of this post.