Tinder Dating in Amsterdam a SWOT Analysis
In years to come, anthropologists will list the 21st century into categories. BT and AT, which are acronyms for before and after Tinder. Historians will also speak of the Tinder boomers. Babies that were born as a result of Tinder flings. But what was life like BT? (before Tinder). Some of you bright young things might not even be old enough to remember the dating scene prior to the popularity of Smartphones and the invention of apps for dating. Hence this timely Tinder SWOT analysis.
Online Dating
Ten years ago, if you weren't the kind of person that found it easy to meet new people at bars, clubs, supermarkets, police stations, or the workplace, one of the most common (and time consuming) way of meeting partners was by joining an online dating agency.
The romantic joys of completing checklists
If only the great writers of romantic poetry were alive in the 2000's. They could have written poems about the joys of signing up to an online dating agency, providing your credit card details, along with blood type, shoe size, fingerprints, ancestry and favorite music. Some online dating sites were often like the mafia, the only way to leave was with a death certificate.
Online Dating agencies often had huge multiple choice checklists. The idea being that the agencies would use an incredibly complex series of algorithms to find the online dater their perfect match based on the responses provided to the questionnaires.
The agencies somewhat naively assumed that people would be truthful, rather than choosing the answers that would best attract potential mates.
All that effort for what?
Having spent hours filling in forms, what soon became clear was that regardless of which answers people chose, the best way to get a date was to have an attractive profile photo. Yes the majority of people are really that shallow. It became obvious that being handy with photoshop, or hiring a photographer to take photos from the best angles, and using sympathetic lighting in profile pics would get the highest number of responses while dating online.
A Tinder SWOT analysis
Strengths
The Need for Speed
One of the great strengths of Tinder is that it cuts through the usual BS and huge amount of time associated with making contacts using online dating. Forget all the nonsense about having a match online due to having a shared love of the works of Machiavelli or Erwetensoep.  The biggest advantage of Tinder is that both parties know full well that they've selected each other entirely based on looks. Or I should say the image presented in their profile photos. This high tech tool is a throwback to caveman times. Is he or she hot?  Then swipe right and if you get a match arrange to drag them back to your cave as soon as possible. 
Men can hunt without fear
One of the shall we say unique things about the Dutch dating scene is that it's common for women to take the lead. Dutch men sit around looking pretty while the women decide on which specimen they intend to pounce. Friday nights in bars throughout the Netherlands are better than watching a BBC wildlife documentary. Dutch women tend to be relentless in the pursuit of their excessive hair gel using prey.
Tinder turns the table. Once a match has occurred, the Dutch male is free to enter the dating game and pursue his match with original and charming observations such as "wat heb je een -lekker lichaam/If I said you had a beautiful body would you hold it against me?"
Using Tinder, Dutch men are able to flirt freely, without fear of the verbal abuse that usually comes with approaching Dutch women without permission.
Weaknesses
Tinder fatigue
Like the nursery rhyme about the old woman who lived in a shoe, and had so many children that she didn't know what to do, so much choice can lead to the newly discovered illness known as Tinder fatigue.
For men, it used to be the case that online dating sites had many more male members than female. Getting an actual date took a lot of effort. Tinder, particularly in Amsterdam is overloaded with females. This can lead to Tinder fatigue. I often see exhausted looking men in cafes, barely able to stay awake as their so exhausted from the rigors of excessive dating. Zielig! It's like being a child in a huge sweet shop, what to choose? 
The same also applies to women, who are so overloaded with matches that it's not unusual to see women going on Tinder, during a date, to check out who else is lusting after them.
Lack of security
An obvious weakness of Tinder  is the total lack of security of profile photos. There are numerous sites that display collections of Tinder profile photos and conversations. Something which I'd never do on here. Which is why I've listed it as a weakness in my Tinder SWOT analysis.
Opportunities
Finding potential new partners, (for one night or more) is as easy as annoying a Dutch person by questioning why they regard themselves as being tolerant.
Test driving
As the Koen would say, relationships are just like cars, you need to test drive them, Tinder is perfect for this.
Threats
There are many threats that come with Tinder usage. Using only a photograph, followed by a few text messages is no way of guaranteeing that you might actually get on with your date.
There's also the risk that while you might somewhat naively believe that Tinder is a good way to meet Mr or Miss right, that your date might only be interested in one thing…sex.
Depending on your profile choices on Tinder, you might end up in the embarrassing position of coming across your work colleagues, or the profile of your married boss.
Another uncomfortable scenario of course is that you could end up seeing the boyfriend or girlfriend of a close friend on Tinder. Do like the Dutch and swipe right, as at least you'll know them already.
Another clear and present threat is that you might come across your ex.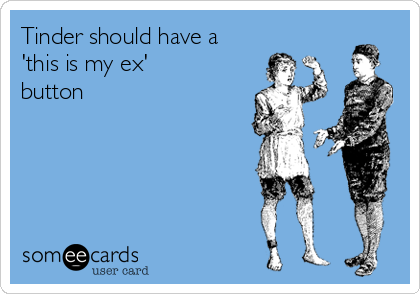 Aged profile photos
There's always a risk that the profile photos that moved you to swipe right, were taken years ago, prior to them being scarred for life during the crush at the dolle dwaze dagen sale at de Bijenkorf.
That aside, in the Netherlands makers of condoms, divorce lawyers, Notaries, and photoshop experts continue to be incredibly enthusiastic about Tinder. Which brings me to the end of this Tinder SWOT analysis. Enjoy!
No serial daters were hurt during the writing of this post.
Till next time hou je bek!