The Seven Deadly Sins of Crime in Amsterdam
This week there was yet another assassination in Amsterdam believed to be connected to an ongoing war between some crime syndicates.  In the same week a survey was published which showed that Amsterdam has the highest number of reported crimes in the Netherlands. Distracted by this, the Shallow Man had a lot on his mind. So much in fact, that I stepped onto a pedestrian crossing into the path of two cyclists, one of whom happened to be reading an IPAD.  I felt a pair of strong hands pull me out of the way and back onto the safety of the pavement, undoubtedly saving my elegantly dressed self. I turned to face my savior, who turned out to be an attractive, but poorly dressed woman in her late twenties.
'Thank you so much, you probably saved my life.'
'No problem Shallow Man, I am in fact, Anouk, your guardian angel.'
'But you're Dutch, I'd have assumed that my guardian angel would be British.' Raising her voice she said.
'HEY! Do you have a problem with the Dutch? You did have a British guardian angel, but since you moved to Holland she spent most of her time in Amsterdam coffeeshops, or getting drunk in pubs, which was why I was sent to protect you.'
'I was sent by Henk and Ingrid, the God's of Dutch normen en waarden (norms and values), to save your life, so that you'd be able to tell your expat readers and tourists the truth about crime in Amsterdam. Yes, it has the highest crime rate in the Netherlands, but like most things in this country,  it's the fault of stupid foreigners. They come here and ignore the seven deadly sins of crime in Amsterdam. Go forth and spread the word, so that Amsterdam's reputation (and income from tourism) will not be affected by the willfully ignorant and naive behavior of stomme buitenlanders (stupid foreigners)."
At that she hopped onto a bike, which she'd thoughtfully parked right in front of the entrance of a doctor's surgery, and cycling straight through a set of red traffic lights, while raising her finger at a motorist that had to brake suddenly to avoid her, vanished from view.
So as told to me by Anouk, my guardian angel, here are the seven deadly sins of crime in Amsterdam.
The things I do for my readers!
1. Thou Shalt not have thy photo taken at the I Amsterdam sign
Tourists may as well wear a sign on their backs that says 'please rob me, I'm distracted.' Like Dutch people and Vlaamse frites (Belgian fries) there's something about that bloody sign that's irresistible to foreigners. "Look mother, I really am in Amsterdam, and to prove it, I'm going to do something really original, here's my photo in front of the I Amsterdam sign." I wonder how many Facebook updates have contained a photo of some tourist, in front of that sign, with the caption, 'guess where I am?' Ha, bloody ha.
Just as in nature the salmon run attracts hordes of bears, looking to engage in a feeding frenzy. The standing in front of the I Amsterdam sign ritual, attracts pickpockets and scam artists looking to rip off tourists who are usually so busy having their photos taken, that they are shocked to discover that the rucksack which contained their passport, flight tickets, newly acquired sex toys, drugs and money, has disappeared as if by magic. Amsterdam city council should replace it with a sign that says "I want to be robbed in Amsterdam.'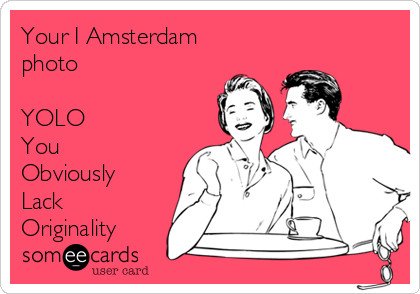 2. Thou shalt not use escort agencies while in Amsterdam
Be careful about the numerous websites offering escort services in Amsterdam.  Many of these sites claim to offer 'high class' escorts, which is a codeword for bloody, outrageously expensive and will rob you blind if they get a chance.
They'll attempt to entice you to use their services while in Amsterdam with all sorts of offerings such as:
The Pornstar experience
Erotic massage
The girlfriend experience
In particular avoid the girlfriend experience.  This involves watching the lady chain smoking, being shouted at, and listening to her telling you what a strong feminist she is, even though she only works part-time. You might even be asked to drive her to a different part of the Netherlands so she can go and visit one of her many relatives while you sit in the corner and keep quiet while everyone speaks Dutch around you. All while being charged per hour for her services.
Whichever service you take, you might notice later that some items have disappeared from your hotel room, or find odd charges to your credit card from the Hema, Wibra, and FEBO once you return home.
There's no need to use escort services in Amsterdam, simply do like the locals and either use Tinder or visit one of the many late night bars in the Leidseplein or Rembrandtplein areas.
3. Thou shalt not buy a stolen bike on the street
If someone offers to sell you a bike on the street, it's obviously stolen. You need to behave like local residents of Amsterdam and haggle for the lowest possible price. Foreigners pay far too much for stolen bikes which encourages thieves to steal even more. I explained this recently to some German tourists I saw buying a bike on the street. To which they said.  "Wir haben es nicht gewusst."
4. Thou Shalt act like local Dutch women
Female tourists, often stand out, thus making themselves potential prey for criminals looking to rob tourists. If a group of foreign women are in a busy cafe or bar, confuse the criminals by shouting out the following when going to the toilet. "IK GA EVEN PLASSEN!"(I'm going for a pee") The criminals will immediately assume that you're Dutch, as only Dutch women like to tell an entire bar what exciting activities they'll be getting up to in the toilet. Lovely!
5. Thou Shalt act like local Dutch men
Criminals that prey on tourists in Amsterdam often include very attractive women, who'll engage male tourists in conversation, and distract them, while their accomplices will pickpocket the distracted male. This is another scenario where you should act just like the local Dutch men. If you see a woman that's really attractive, looks feminine, wears makeup, and actually might even be wearing heels, well that's too good to be true. Act just like the locals, and stare, and stare and stare, but whatever you don't approach them. The female criminal will say to her accomplices, "oh I thought they were tourists, but they're definitely Dutch."
6. Thou Shalt not buy drugs from street drug dealers
Only tourists buy drugs from dodgy looking groups of men on street corners. Recently the Shallow Man was walking along a street in Amsterdam when a suspect looking chap said, "pssst, I've got some good stuff for you" I decided to set him straight. "I live here, if I want drugs, I'll buy them from a flower stall, or at a festival like everyone else." He looked rather hurt and said, "I'm not selling drugs man, I've got HP printer cartridges at a good price, they're worth much more than cocaine, and the police can't arrest me for it."
7. Thou shalt not rent holiday apartments from dodgy websites
There are plenty of reputable sites for short term holiday apartments in Amsterdam. If you check out Airbnb, you'll get a good idea of the average costs and quality of apartments available. After deciding upon the area of Amsterdam that you'd like to stay in, don't then go to a site such as one the famous 'list' websites to find a cheap apartment. You might want to think twice before handing over your credit card details and deposit if you see an ad like the one below I found on a dodgy website.
Beautiful room in Luxury Apartment in Amsterdam South
"Room available in apartment in Amsterdam Pipe/Zuid area. It is very very good. You have no trouble here whatsoever. On the fourth floor. It has no lift, but hey, if you too drunk or high you sleep on stairs, neighbors not a problem. If they complain I bring my pitbull with me and go talk to them, I take care of everything. Nice friendly apartment, with so many people staying there, you will make lots of friends no? The apartment is a long, long distance from all of the tourist areas in the city, but you no worry, my brother drive taxi, and he give you good price to drive you around. (Minimum 40 euros) If you want bike, I get one for you.  You must buy your own chain for bike, as the one it comes with will be broken.

Only 90 Euros per person per night. If anyone rings the doorbell, DO NOT ANSWER. Have a great stay in my place.
To summarize
Amsterdam is actually a very safe city to be in. I only wear my bulletproof vest after publishing blog posts, or if I happen to be going anywhere near a shisha cafe.
No bike thieves were hurt during the writing of this post.
Till next time, hou je snavel!