King's Day in Amsterdam, a guide for cynics
Unless you've been hit over the head by an old lady in a shop, angry that you shouted "nee oma, ik ben aan de beurt."/No grandma I'm next." Or you have wireless Internet from Ziggo, which is so bloody slow, that you've lost track of current affairs as it takes too long for the pages to load, you can't possibly have failed to notice that King's Day is approaching.
Judy Collins (who I've never met) sang a wonderful song called send in the clowns. If she lived in Amsterdam today, and had the dubious pleasure of reading the tsunami of articles about King's Day that are flooding Facebook, she'd have named it send in the clones.
The Shallow Man is all for using cliches, but my God, if I read one more fluffy, sickly sweet, upbeat and jolly King's Day 'guide' that advises clueless foreigners to 'wear orange' or to get up early and visit a bloody flea market, I'll open my curtains (yes being a foreigner I own curtains) open the windows, and shout at the top of my voice, in the words of the Prisoner, "I'm not a number, I am a free man!!" Which brings me to the subject of today's post. The cynic's guide to King's Day in Amsterdam.
Humbug to the clones, be a cynic on King's Day
If conforming were difficult, the majority of people wouldn't bother. But of course, getting in line with the majority is so easy, in fact it's downright gezellig! This year it will be my eleventh King's Day in Amsterdam. If you enjoy fitting neatly into the expectations of society, like a Dutch girl sticking her feet into yet another pair of comfortable dangerously flat shoes, then follow the advice of my fellow bloggers, and behave like a mindless clone. If however, you find that the sickly sweet, fluffy, jolly advice makes you want to put your head over a toilet bowl and vomit, then follow the Shallow Man's insider guide on how to be a complete cynic on King's day.
The things I do for my readers!
On King's Day in Amsterdam refuse to wear orange
The Dutch are usually stylistically challenged. One of the reasons that they love King's Day so much is that here it is, finally a day where instead of dressing just like everyone else, (jeans, brown shoes, flat shoes for women etc) they can dress just like everyone else, but this time in Orange. In fact usually, the Shallow Man is the only person laughing at the way the Dutch dress, but on King's day they all laugh, at each other, and get to understand how I feel all year round.
Everyone will wear something orange. Suits, skirts, tops, wigs, and if you're lucky (or not as the case may be) you'll get to see some orange underwear as well.
Refuse to be a clone, fight against the behavior of the conformists and don't wear any orange at all. It will be a great way of having deep and meaningful conversations with drunken Dutch people, who won't be able to resist invading your personal space, and stinking of beer and the sweet noxious smell of cigarettes, say to you "hey! why aren't you wearing orange?" They'll fire this question at you like a poisonous snake spitting venom at a mongoose. Don't let this intimidate you and respond with one of the following answers:
Well seeing as how you've obviously spent so much time on a sunbed, I think you're orange enough for the both of us
Have you ever considered moving to the peoples republic of North Korea?  They absolutely love people that dress the same way and follow orders
Have you ever considered becoming self-employed? That way you could learn to mind your own business
Order your condoms early
Even people whose personalities would normally serve as an effective form of contraception, are shocked to find that on King's Day, the well guarded gates to mansions normally closed, suddenly swing wide open, for one night only. Jiggy Jiggy, makin whoopie, riding the bologna pony, dipping the weasel, or climbing the stairway to heaven is never easier than on King's Day.
No need to choke the chicken on King's Day, it's all there for the taking. Tinder isn't even necessary. Just stand in a group of orange clad lions and antelopes and pretty soon a Dutch man or woman will be stuck to you as if your clothes are made out of velcro.
With this in mind, the Dutch start raiding drugstores and chemists weeks before King's Day and stock up on condoms. Trying to find a place that still has contraceptives left a couple of days before King's Day in Amsterdam? Forget it. It's easier to find a Dutch HR department that doesn't discriminate against people from a non-western background, than to locate contraceptives in Amsterdam in the run up to King's Day.
No matter how desperate you are, be sure to follow the advice of the signs helpfully placed all over Amsterdam by the city council. Don't buy condoms from street dealers.
The Dutch love hearing how tolerant they are
When you get talking with a group of Dutch people on King's Day, make sure that you say to them:
I love how tolerant and equal your society is. Holland is the only country in the world where you have a huge party to celebrate the birthday of an unemployed man. Goed zo!"
Lang zal hij leven
The Dutch love singing "lang zal hij leven" (long may he live) for their King. When they sing this, say "I should bloody well hope he lives long, he doesn't exactly have a stressful job now does he?"
Oh joy it's the vrijmarkt
Do you have some old junk, that's in such bad condition, that when you put it out on the street, even the gypsies who drive around Amsterdam looking to take old rubbish ignore it? Then the vrijmarkt is for you. All over Amsterdam you'll have noticed that many people have already reserved and marked their selling spots with tape. For instance in front of the Royal Palace at Dam Square, you'll see a sign on the floor that says. "Bezet Willem en Maxima's ROT OP!"
On King's day in Amsterdam, it's legal for the public to set up stalls to sell just about anything, tax free. Thus, Amsterdam becomes the world largest flea market. Certainly if you buy any second hand clothes, they may even contain fleas, animal hairs, or even some exotic species of insect picked up during the sellers travels.
Nothing beats the ingenuity of the Dutch when it comes to selling goods on King's Day. It's an absolute joy to see the creativity of the sellers and the wide range of products they sell.
Half empty cartons of shampoo, face cream full of finger marks, used sex toys. "Het werkt nog, moet ik het je laten zien?/It still works, would you like a demonstration?"
Dead cats "great for scaring mice, and you don't have to feed them"
Mice "great for training cats"
Condoms (handy due to the aforementioned shortage around King's Day) hardly used
XTC, which the police allow to be sold on King's Day as after all it is one of Holland's biggest exports
Even the red light district joins in. In front of the windows,  stalls are set up with ladies that look a little worse for wear, with a big sign saying "60% korting alleen vandaag!"/60% discount only for today!
The art of living dangerously
The other great thing about King's Day is that you can buy cheap food on the street.  You're only one bitterballen away from death at any time. So for those of you that enjoy living life on the edge, just wander around taking bites of food from the various stalls on the street. If you get taken ill suddenly, there are plenty of Amsterdam homeowners who are happy to charge strangers up to five euros for the use of their toilets. Lovely!
Or if you really need to throw up, simply find a house where a party is being given for catwalk models. You can vomit all you like, and it won't bother them at all, they're used to the smell.
Go provincial
Amsterdam on King's Day is full of people from the platteland, in Amsterdam for some drunken debauchery. The wedding rings stay on, and the orange clothes come off, after a beer or ten. The kapsels are pittig, and Dutch passions flow as the ladies from the countryside hunt down innocent men and rob them of their virtue: Up against walls, in toilets, on the grass, well anywhere actually.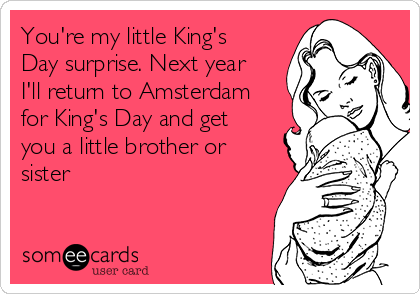 The morning after
If you live in a quiet street in Amsterdam, you might be awoken by the sound of screaming. But don't be alarmed. This is completely normal when men and women find themselves waking up next to a complete stranger after some drunken "hunting for the rookwurst" and think "gadverdamme, wat heb ik nu weer gedaan?" Never again! Until the next King's Day comes around.
King's Day checklist
Condoms
A well rehearsed excuse in case you don't return home to your partner till the next day
9292.nl saved on your smartphone, so that you can find your way home using public transport the next day
The morning after pill
Paracetamol
Somewhere to safely stash your wedding ring
A packet of strong mints
Gaviscon for an upset stomach
Google Maps
Have a fabulous King's Day, and if you follow my tips, you'll enjoy it even more. Party on.
No chickens were hurt during the writing of this post.