Rental scams on Social Media and how to avoid them
As I write this post, it's the time of year when a lot of people are planning to move to the Netherlands to study or have just arrived and are looking for somewhere to live long-term.  Whether it's due to the poor support provided by some educational institutions or perhaps a lack of knowledge of the Dutch housing market, the results are often the same. Newcomers fall for scam ads posted in Facebook groups and end up losing their money and still fail to find somewhere to live. Here are some tips on how to spot fake ads for rooms advertised in the Netherlands.
The anatomy of typical rental scams on Social Media
As well as having my own Facebook group, I also moderate several others including one called 'Amsterdam' and another called 'Rotterdam'. Managing several groups and assisting with the approval of new posts has given me some insight into the anatomy of typical Facebook rental scams.
1. Generic description of the property
A scammer attempted to publish a fake housing ad in one of the Facebook groups I moderate. She was advertising what was supposed to be rooms that were available in an apartment in Amsterdam.
The first thing that struck me was how generic the description was. I mean, if you have an apartment in Amsterdam, wouldn't you mention which part of the city it was based in?
Secondly, an apartment in Amsterdam with air conditioning? Really? Unless the King and Queen of the Netherlands have decided to sublet some rooms in the royal palace it's simply not feasible that you'll find many places in Amsterdam with air conditioning.
Lawn maintenance included. The chances of a Dutch landlord voluntarily paying for anything that they're not required to do so by law are lower than a snake's belly.
The ad mentions bus stops and a metro. Wouldn't a legitimate housing ad reference which metro station is nearby? Animals are allowed and smoking too. Really? Wow, you'd almost think that they're desperate to get as many people to move in as possible.
Street parking. Parking permits in Amsterdam are not easy to come by, nice that the apartment appears to have them.
2. The person advertising the property lives in a different country
In the example above, the person advertising a room in Amsterdam allegedly lives in Roanoke, Virginia. Natuurlijk!! It makes perfect sense. So the owner of an apartment in Amsterdam has asked someone else to post an ad in a Facebook group who no doubt will drop everything and fly from Virginia to Amsterdam to show would be applicants the rooms.
3. The person advertising has identical rooms all over the world
If we return to point one of this post, this is where you learn why the description of the property was as generic as possible.  As incredibly, making a copy of the text of the ad and then pasting it into the Facebook search bar reveals that Angela Moore is a very busy woman indeed. She has identical rooms in Groningen, Amsterdam Rotterdam, Prague, Copenhagen and Paris. How I'd love to have her air miles, she must be incredibly busy doing room viewings all over Europe.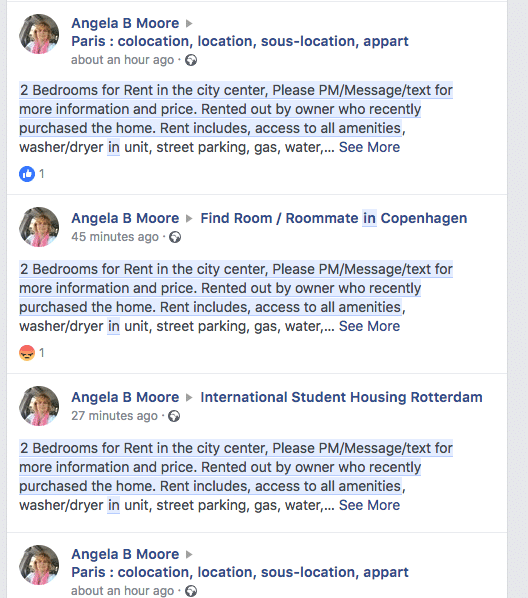 4. They'll ask for a deposit to secure the room before seeing it
Now we approach the point of the generic advertising. Once you contact the scammer, they'll tell you that there's a lot of demand for the room and that to secure it you'll need to pay a deposit as per the example below.
5. The person behind the fake Facebook account will block you once you've paid
Sadly, a lot of people do go ahead and pay a deposit to secure a room, only to find out that once the money has been transferred that the contact phone number they had no longer works and the person they were dealing with no longer appears to have an account on Facebook. In fact, the scammer having gotten what they wanted, your money has now blocked you and is moving on to their next victim.
Avoid scammers by doing the following
If someone contacts you via social media to tell you about a super apartment or room that they have for rent in a Dutch city then believe me it's a scam. Demand outstrips supply, there's no need for landlords to go searching for people on Facebook to offer them rentals
Never, ever, pay a deposit for a property that you haven't seen. If someone asks you to do so, block them, as they are undoubtedly a scammer
While there are plenty of Facebook room and apartment rental groups for the Dutch market, there's a lot of scammers joining those groups looking to exploit people. I won't recommend any particular groups but do advise you to join the excellent (closed) Dutch Housing Scammers Facebook group which exposes the fake accounts of housing scammers.
No gardeners were hurt during the writing of this post.