Dutch stereotypes of other nationalities
The Shallow Man recently made a video called Things Not to Say To Romanian Women in Amsterdam. The idea for this came from the feedback I'd received from some Romanian expats in the Netherlands about their experiences here.
Since the publishing the video, I've been inundated with messages from many other expats about the kind of comments they often receive about their countries from some Dutch people. Based on the feedback, I've put together a list of the top seven Dutch stereotypes of foreigners.
Now this post might annoy some, and yes if I don't like it here, I'll rot op naar mijn eigen land in due course.
The things I do for my readers!
Before I start with the list, I'll mention a story told to the Shallow Man by a lovely lady from Cyprus.
Just admit that you're black
A while ago the Shallow Man wrote about black schools in the Netherlands. I mentioned that the Dutch government classes schools with more than 50% of children from a non-western background as 'black.' This might explain the experience of an expat lady from Cyprus, who being naturally very dark skinned and having black hair and brown eyes, often experiences the following.
Where in Africa are you from?

I'm from Cyprus

Yes but one of your parents is black right?

No they're both Cypriots.

Yes but you have African roots

No I don't

Oh I'm sure you do. Check your family tree, there's some black in there somewhere

Well technically all life began in Africa, so you have black roots too

WHAT DID YOU SAY? I'M 100% DUTCH!
The Top Seven Dutch Stereotypes of foreigners
7. British
I have to admit that there's some truth in this one. The Dutch regard Brits as being alcoholics that drink until they collapse. The women always wear skirts that are too short, and the men are not only drunks but aggressive too. With hands shaking from alcohol withdrawal symptoms, I'll move on to number six.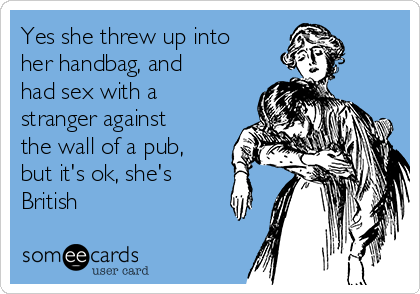 6. Greeks
A new entry, just in at number six are the Greeks. Yes the Greeks are poor and bad with money. A Greek reader of the Shallow Man was at a party in Amsterdam, where upon explaining where he was from, was 'jokingly' asked if he'd like to have some money for the bus fare home.
5. Americans
Hanging in there at number five are the Americans. If you're a white American you should be borderline obese, own at least five guns back home, and vote Republican. Also be prepared to be lectured about how racist your police are.  You should also own a 4×4 vehicle which you use to drive the four minutes it takes to get to your local Albert Heijn.
If you're a black American you should be into hip hop, R&B, still be mourning the death of Tupac and Biggie Smalls, and be angry about how racist white Americans are. You should also be grateful to be living in such a fabulous and tolerant society as the Netherlands, and do not under any circumstances compare American blackface to Zwarte Piet.
4. Polish
If you're Polish, pat yourself on the back. The Dutch love you. Even if you're in Amsterdam to study a masters degree, they won't be able to resist telling you how happy they are with their new kitchen that was put in by some Polish workers. It was so cheap, super voordelig!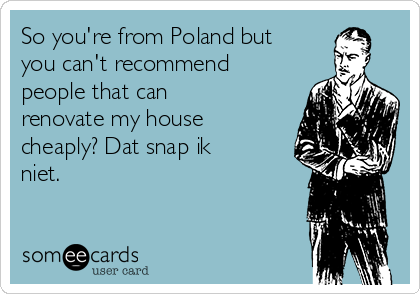 3. Russians
I had the misfortune of reading an article on a Dutch meisjes fashion blog.  There was lots of bitching about Russian women. Apparently they wear too much makeup, porno heels, look feminine and are after the money of Dutch men. I moscow onto number 2.
2. Bulgarians
Second, no actually third class Europeans. So poor. Some Dutch people appear to believe that Bulgaria is a third world country. The streets are full of half starving animals, howling and moaning in hunger. Bulgarians live in caravans, and have never even heard of the x-factor, or Game of Thrones. (Did you know that Carice van Houten is the star of the show and is Dutch?)
Bulgarians travel to the Netherlands in caravans, and immediately focus on stealing items from the rubbish bins of the wealthy first worlders to send back to feed their families which usually have 15 children and a mother under thirty. They are also often confused with people from the country below.
1. Romanians
I'll let you into a secret. Prior to 2007 when Romania joined the EU, there was no crime in the Netherlands at all. The red light districts existed purely for tourism purposes. All of the women working in the windows were actually actresses, hired by the local councils to stimulate tourism. Dutch people used to leave their bikes unchained, their doors and curtainless windows open, and quite happily would share the pin numbers of their bank cards with friends and strangers as there was no crime.
Then the Romanians arrived. Suddenly actual prostitutes were working in the red light district, smuggled into the country underneath caravans. The cloning of pin cards became a huge problem, and pickpockets suddenly appeared in the center of Amsterdam, and even had the temerity to steal smartphones from Dutch people high as kites on xtc at festivals.
Congratulations to my Romanian friends as you are the subject of the number one stereotype in the Netherlands. Which reminds me, if you could get me a free Iphone 6S, I'll be a happy Shallow Man.
No pickpockets were hurt during the writing of this post.
Till next time, rot op met je tolerantie!